Strategic Plan 2022-2027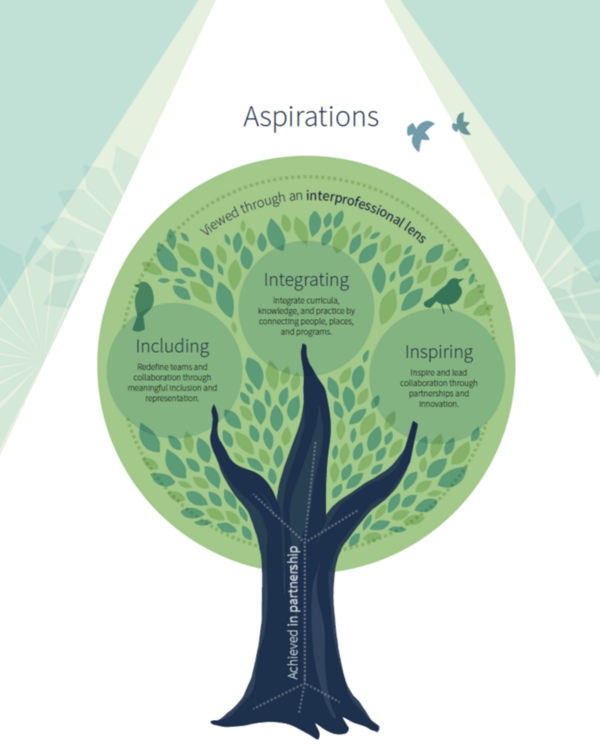 An Aspirations and Activities (A&A) approach framed our strategic planning process. Aspirations are the "what": the place at which we will arrive. Activities are the "how": the path of work that allows us to achieve our Aspirations.
Our 2022-2027 Strategic Plan outlines 3 Aspirations, their associated Activities, and our approach to achieving them. We invite you to explore our full strategic plan, which you can download to read in full.
Our Aspirations are:
• Including: Redefining teams and collaboration through meaningful inclusion and representation.
• Integrating: Integrating curricula, knowledge, and practice by connecting people, places, and programs.
• Inspiring: Inspiring and leading collaboration through partnerships and innovation.

These Aspirations will be achieved:
• In partnership;
• Through an interprofessional lens
The pandemic highlighted the crucial role of collaboration in healthcare and our Centre's community holds a key to addressing some of healthcare's most pressing concerns. Building and maintaining trusting relationships and continually improving our collaborative abilities is more important now than ever.
Emerging from the pandemic, building on our past, and leading into the future, our collective commitment is unwavering.
Advancing collaborative healthcare and education:
Learning together for a healthier world.
We share this question for ongoing reflection:  
How will we work -- and learn together -- to create a healthier world?   
We invite you to collaborate with us on this journey. Thank you.
CACHE Strategy and Vision Launch - May 19, 2022