Together: Stories of Collective Impact
An international magazine by the Centre for Advancing Collaborative Healthcare & Education (CACHE)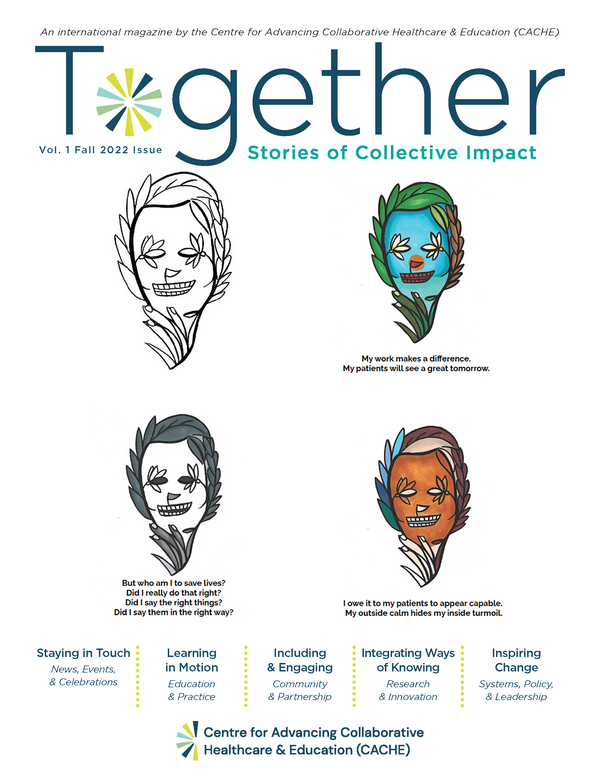 Thank you for reading and for your submissions.
Why a magazine?
We have elevated our longstanding newsletter to a magazine to recognize that this international community has been contributing stories for years now, well beyond what we might expect in a typical newsletter. Thank
you and many thanks to this readership and community for sharing your innovation, research, and stories relating to collaborative healthcare and education.
Why now?
We know that health teams are recovering from a challenging few years. We know that collaboration and interprofessional education is key to this recovery. Our magazine, Together, will provide a tangible space for
us to connect, learn, share, celebrate, and champion how we work and learn together for a healthier world.
What will it look like?
The magazine will be online only, and feature regular, recurring columns, focused on:
1. Staying in Touch: News, Events, & Celebrations
2. Learning in Motion: Education & Practice
3. Including & Engaging: Community & Partnership
4. Integrating Ways of Knowing: Research & Innovation
5. Inspiring Change: Systems, Policy, & Leadership
We will curate, invite, and write. Our cover art will be an open submission.
And most of all, we will share and celebrate.
We look forward to your submissions, feedback, and reactions.
With gratitude,
Stella Ng, CACHE Director, on behalf of the CACHE Team
Want to receive our Magazine right to your email?
Submit your story, event, or cover art for the next issue of Together: Stories of Collective Impact
https://www.surveymonkey.com/r/CACHEMagazine_TogetherSubmission_Vol2
We welcome articles, news, and stories related to collaborative healthcare and education. Together let's celebrate the best of collaboration, IPE, and teamwork in health & social care: innovations, events, awards, research synopses, profiles--all are welcome! 

We look forward to hearing from all who contribute to health and social care, including learners, educators, patients/clients, families, caregivers, clinicians, and others.

Submissions should be approximately 250 words or less in length; Pictures and/or visual art pieces are welcome (1 MB or less; high-resolution colour jpegs or pngs preferred) may be included. Pictures brighten up the page and draw the eyes of the readers. Heads shots are acceptable; photos of something happening are even better.
The Centre's successful Newsletter had international reach and readership and in Oct 2022, was followed by a magazine (Together: Stories of Collective Impact).
Peruse past editions of the Centre's Newsletter, including many celebrations of the collaborative healthcare and education community's achievements and initiatives.