U of T IPE Curriculum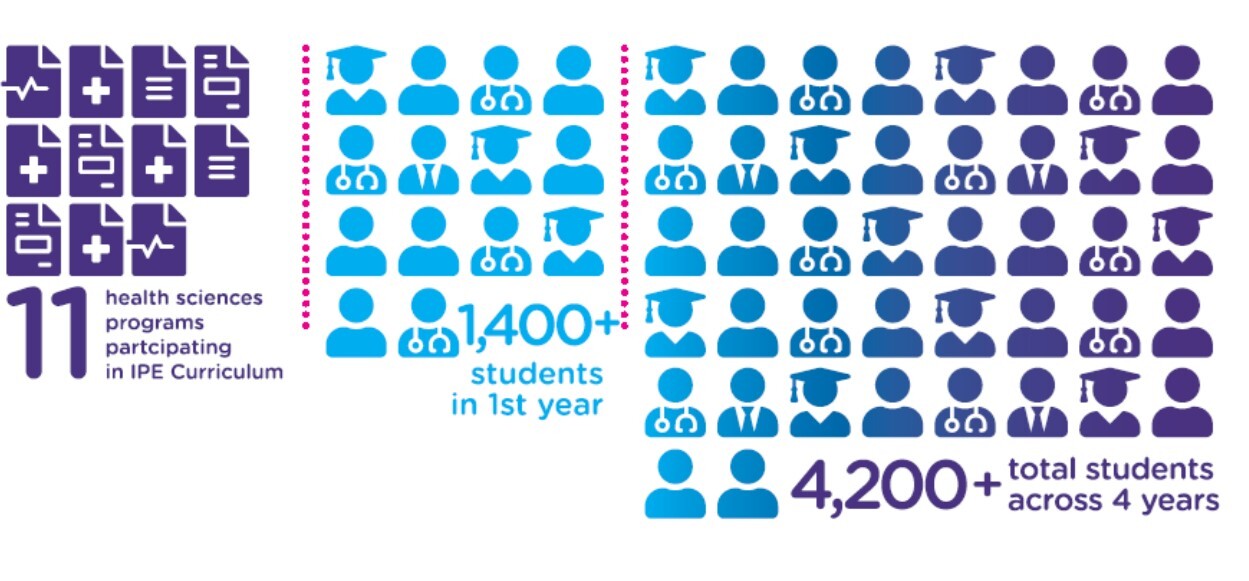 Curriculum Overview
Each year we welcome approximately 1400 students from 11 health science programs and counting. The programs range in length from 2 years to 4 years. There are approximately 4200 students involved in the UofT IPE Curriculum at a time.
Through continued collaboration and engagement between the Centre for Advancing Collaborative Healthcare & Education (CACHE), faculty at the University of Toronto and practice partners, all health professional students have the opportunity to develop collaborative competencies through the integrated developmental Interprofessional Education Curriculum in both the university and practice settings.
Over the course of the curriculum, students engage in up to nine foundational learning activities:  Why Collaborative Healthcare? Learning from stories and science, Who do we collaborate with? Valuing what we do and challenging what we think, Cultivating Team Partnerships: Learning from Lived Experiences, Faculty-Led Learning Activity, Collaborating for Quality, Conflict in Interprofessional Life, Case-Based Learning Activity: Pain Curriculum, Palliative Care and/or Appreciating Roles and Collaboration to Improve Care: Head and Neck Cancer Case, and  IPE Component in a Practice Setting.  Additionally, students complete a minimum number of approved elective learning activities according to their program requirements.  Electives, facilitated by university and clinical faculty, are held on campus and in many practice settings and include interactive sessions, simulations, patient/client/family stories, clinical team-led cases and discussion, student team-based activities, community clinic engagement, as well as facilitated blended learning activities.
Pedagogic approaches vary, striving to achieve an efficient, interactive and engaging curriculum that is designed to prepare collaborative-practice ready health professionals.  Faculty and trained client/patient/family educators engage with students to ensure authenticity of curricular offerings. Students who have completed a facilitator education program develop leadership skills in small group facilitation and curriculum development. Trained client/patient/family educators facilitate learning and collaborate with faculty to contribute to curriculum development. Additionally, technology-enabled learning opportunities support collaborative learning in virtual formats.
The IPE Curriculum is guided by CACHE's strategic priorities, continuously developing innovative models to reach learners across the continuum of learning. Strategic priorities are to: